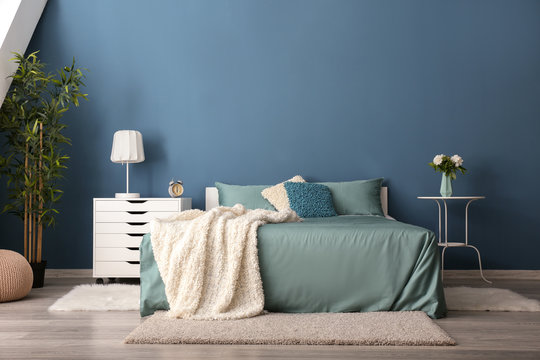 As the summer season is approaching, it becomes necessary to find a comfortable sleeping temperature in your household.
Finding Optimal Sleeping Temperature
Optimal sleep temperature is suggested by experts to be anywhere between 60⁰ and 67⁰ F, regardless of what time of the year it is. This is because your internal body temperature is known to dip as the day goes on. Getting in the habit of turning the thermostat down at night can help with temperature regulation and signal your body that it's time for bed. If your partner has a slightly higher or lower optimal sleeping temperature than you, try adding a small fan to the bedside table, making one side of the bed a little cooler.
Healthy Sleep
Creating a comfortable environment is essential for healthy sleep. Your body's temperature fluctuates throughout the night and keeping your room at a cooler setting will help you to fall asleep and stay asleep throughout the night. This is because warmer temperatures can cause discomfort, restlessness, and night sweats. A bedroom that is too warm will also start to interfere with your body's thermoregulation abilities which can cause overall fatigue.
Tips For Staying Cool
In addition to adjusting the thermostat before you got to bed, there are a few more things you can do to ensure a cooler and more comfortable home. We recommend closing the blinds during the day to reduce heat build-up and considering the use of fans throughout your home to produce more air circulation. You can also cool down your sleep setting by opting for a breathable set of bedding or even a more ventilated mattress. Another great way to ensure your home is comfortable this summer, is to eliminate humidity by using your AC system. When your system is on, you want to make sure you are getting the most out of it by keeping doors and windows shut as much as possible and sealing any cracks or gaps – especially around your windows and doors. Click here for more tips on getting the most out of your AC.
How Bolton Can Help
If you are experiencing trouble with your HVAC system or thermostat, call our HVAC team today to schedule service. Summer time may be the perfect time to get a free estimate on a new HVAC system or to sign up for our preventative maintenance plan to ensure your system stays running at full efficiency. If you would like some advice on how to improve your indoor air quality – tackling your home's airborne debris and humidity, Call our office today or click here to schedule service.
Let's Talk Tanks
Dial 828-253-3621 and a friendly Bolton Service staff member will connect you with a tankless water heater expert.
Proactive Protection
Prevent problems before they happen! Our ESA Service Agreements offer convenience, savings, and peace of mind. Learn More