No job is too big or too small for our full-service plumbing contractors. We are ready to assist you with an emergency repair, a remodel, or an equipment installation. With plumbers on staff who each have more than 25 years with Bolton, we come prepared to handle most problems on the spot, and can provide you with free estimates for just about every project.
Repairs
Whether you have a leaky faucet or a clogged sewer drain, our plumbing specialists will help solve your issues with state-of-the-art tools and expertise. We take and return every call 24/7 to deliver the fast, reliable service our customers have come to expect from Bolton.
---
Pipes, Sewers, and Sump Pumps
Bolton installs and repairs both gas and water pipes, including underground systems. We also install sump pumps and use the latest video and hydro-jetting technology to inspect and clear clogged sewer drains.
---
Water Heaters
A malfunctioning water heater can be major inconvenience for your household. That's why Bolton offers not only repair and replacement services, but we also provide maintenance plans, which include regular tank flushings, designed to prevent unexpected leaks and failures.
---
Water Quality
Pure drinking water can have tremendous health benefits for your family. Whether you're on city or well water, our water-testing and filtration options are designed to fit the specific parameters of your home.
Frequently Asked Plumbing Questions
My water bill seems to be higher than normal. Is there a way to check for a leak?
Yes. Either we can perform this service or you can give it a try. If you turn the main house valve off and the water meter is still moving, the leak is between the meter and the house. To find a leak inside the house, isolate each fixture using the "stops" and look for movement at the meter.
We are on well water and have a cartridge filter. We have to change the filter constantly; is there another solution?
Yes. We would need to visit your home and collect a water test sample to determine what kind of filter you need. Sediment, low pH, iron, or hard water can all be handled with a variety of solutions.
My water heater needs to be replaced. What do you recommend?
The answer will vary depending on the number of people in your household, your water pressure, and whether you regularly ran out of hot water in the past. If you were happy with your old heater, matching a new heater with the size and capacity of your old heater is often a good choice.
My water heater is leaking. What should I do?
If the heater is leaking from the bottom of the tank, it's probably time for a replacement. If it's leaking from a relief valve or other connection point, we may be able to repair it. Also, if it's leaking from the relief valve, your water pressure might be too high.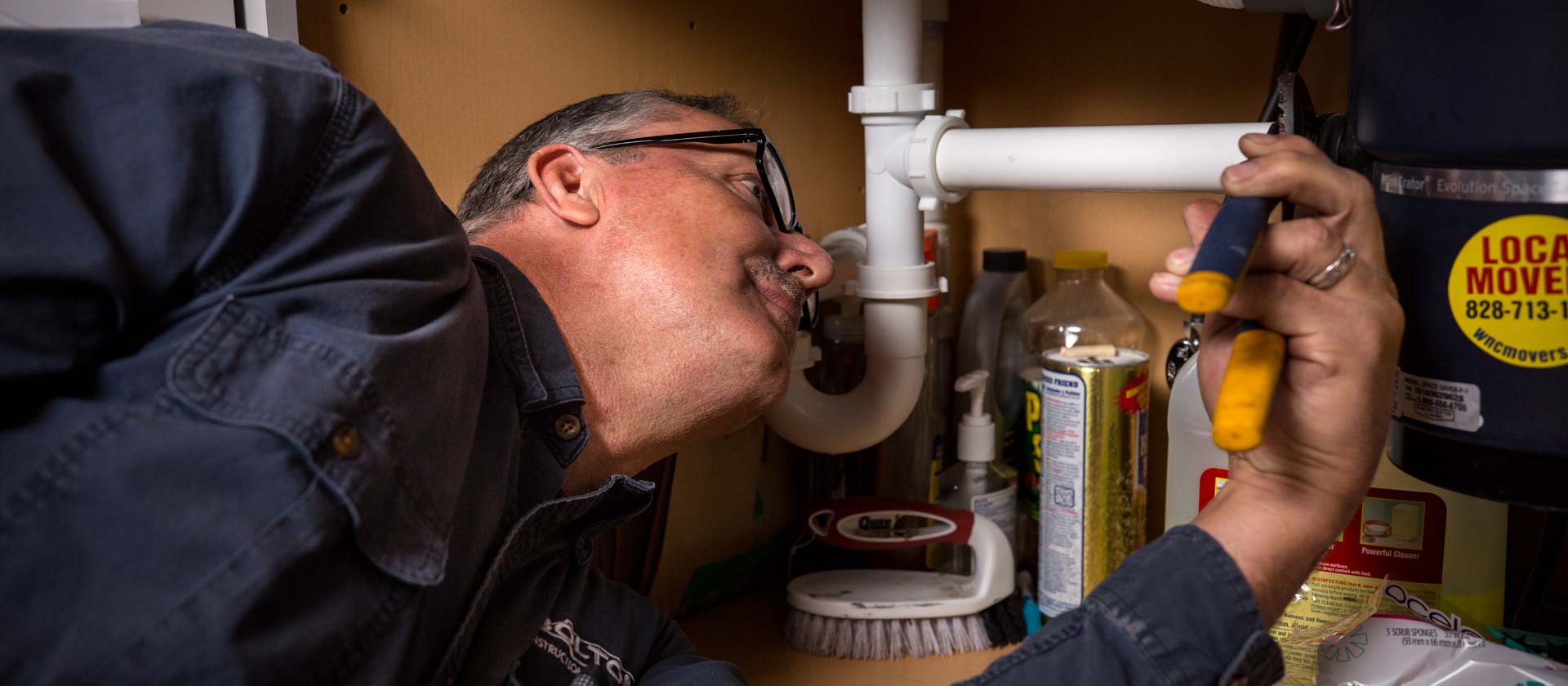 Serving both commercial and residential customers, our products and services include:
Water heater repairs, replacements, and installations

Gas piping installed and repaired

Water piping installed and repaired

Sump pumps installed and serviced

Backflow preventer certification and installations

Sanitary sewer line cleaning and inspections

Hydro-jetting service to remove clogs and cut out roots

Underground water and drain piping installations and repairs

Repairs or new installation of toilets, sinks, faucets and fixtures of all kinds

Complete bathroom, kitchen, laundry and utility room installations and renovations

Inspecting for, and correcting, plumbing code violations

Water filtration system installations

Icemaker line installations

Preventive maintenance planning and services

Additional services available – please call to inquire

Free estimates on most major projects
Let's Talk Tanks
Dial 828-253-3621 and a friendly Bolton Service staff member will connect you with a tankless water heater expert.
Proactive Protection
Prevent problems before they happen! Our ESA Service Agreements offer convenience, savings, and peace of mind. Learn More