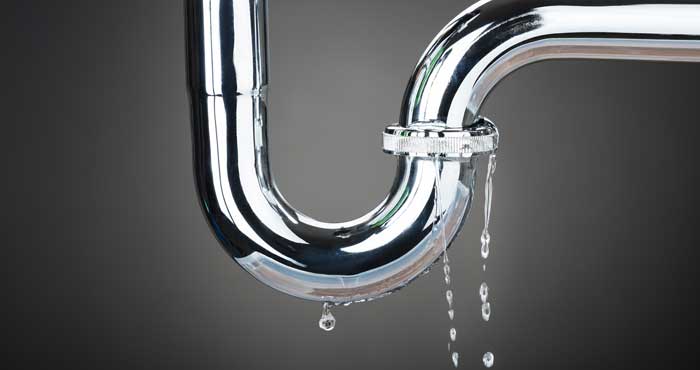 The best way to stop a leak and save your home from water damages is by detecting where the leak is coming from. However, finding a leak before it has become a major problem isn't always the easiest task, so we have put together 5 helpful leak detection tips below.
1. CHECK YOUR METER
This is one of the easiest and most effective ways to determine if your home has a water leak. To do this, simply turn off all the water in your home (be sure the washing machine and dishwasher are not running and no toilets are being flushed) and monitor your water meter. If you see the meter moving right away then most likely, you have a fast-moving leak. If you do not see any movement on the meter right away, take an accurate reading of the meter and wait a couple hours without using any water and then take a second reading. If you see a difference, then you most likely have a slow-moving leak.
2. CHECK YOUR TOILETS
Toilets are a good place to start when searching for a leak because they use such a large amount of water on a regular basis. To successfully check if your toilet is the cause of the leak, you will want remove the lid from the back of the toilet and listen closely for any hissing sounds. Usually this noise will indicate the part of the tank that the leak is coming from. Another way to check your toilet for leaks is by adding a touch of food coloring to the tank and checking to see if the color of the water in the bowl is changed after some time. If you notice the bowl is starting to acquire water from the back tank, it may be due to a leak involving the flapper.
3. CHECK YOUR HOT WATER TANK

The next place to check for a leak is your hot water tank. To do this, you'll want to check around the Pressure Relief Valve and the base of the hot water heater tank for any leaked water. You can also try listening closely for hissing sounds within the drain. This noise indicates there is in fact a leak and a professional plumber should be called.
4. CHECK ALL OTHER LEAK POINTS

There are many other leak points located inside and outside your home. Check all shower heads for leaks by ensuring there is no dripping while the shower is in the off position. Do the same for any bathtub or sink faucets throughout the home. A leaking faucet is most likely the result of a worn-out rubber washer located under the handle. This may be an easy fix for a homeowner with the right tools and expertise, however if you are unsure, then it's a good idea to call a professional plumber. While walking around your yard, be sure to check for suspiciously wet and soft spots as well as leaks coming from your garden hose, taps, and irrigation system.
5. MONITOR YOUR USAGE
The best way to stay on top of your home's plumbing system and prevent costly leaks and damages to your home is by monitoring your water bills. You can do this by simply gathering the last few month's water bills and comparing the amounts. If you see a slow climb in how much water your home is using and you know that your family's water habits have remained consistent, then it may be a sign that you have a leak somewhere. We also highly recommend installing devices such as, StreamLabs that will do all the detection work for you, while saving you money in the long run.
HAVE YOU BECOME A PRO AT DETECTING LEAKS?
We hope this post has better prepared you to successfully track down leaks in your home and to monitor your home's overall plumbing performance. If you suspect you have a leak or would like a professional opinion, give us a call or schedule service here. No job is too big or too small for our full-service plumbing technicians and we can provide you with free estimates for just about every project. Give us a call today! (828)253-3621
Let's Talk Tanks
Dial 828-253-3621 and a friendly Bolton Service staff member will connect you with a tankless water heater expert.
Proactive Protection
Prevent problems before they happen! Our ESA Service Agreements offer convenience, savings, and peace of mind. Learn More