It's a fact that today's homes are getting smarter and saving you money and it doesn't stop with your home's plumbing. With StreamLabs Smart Home Water Control, your homes water usage is now monitored and managed conveniently from your Smartphone . StreamLabs' easy to use technology and affordability makes it the perfect product for every homeowner and landlord. Bolton is proud to serve as an authorized StreamLabs dealer, which means we can install and support StreamLabs' Smart Home Water Control.
Why StreamLabs?
StreamLabs Smart Home Water Control detects and monitors everyday water usage, leaky pipes, appliance failures, freezing conditions, and running toilets. This information gives homeowners the ability to catch and control water issues. Anytime, anywhere.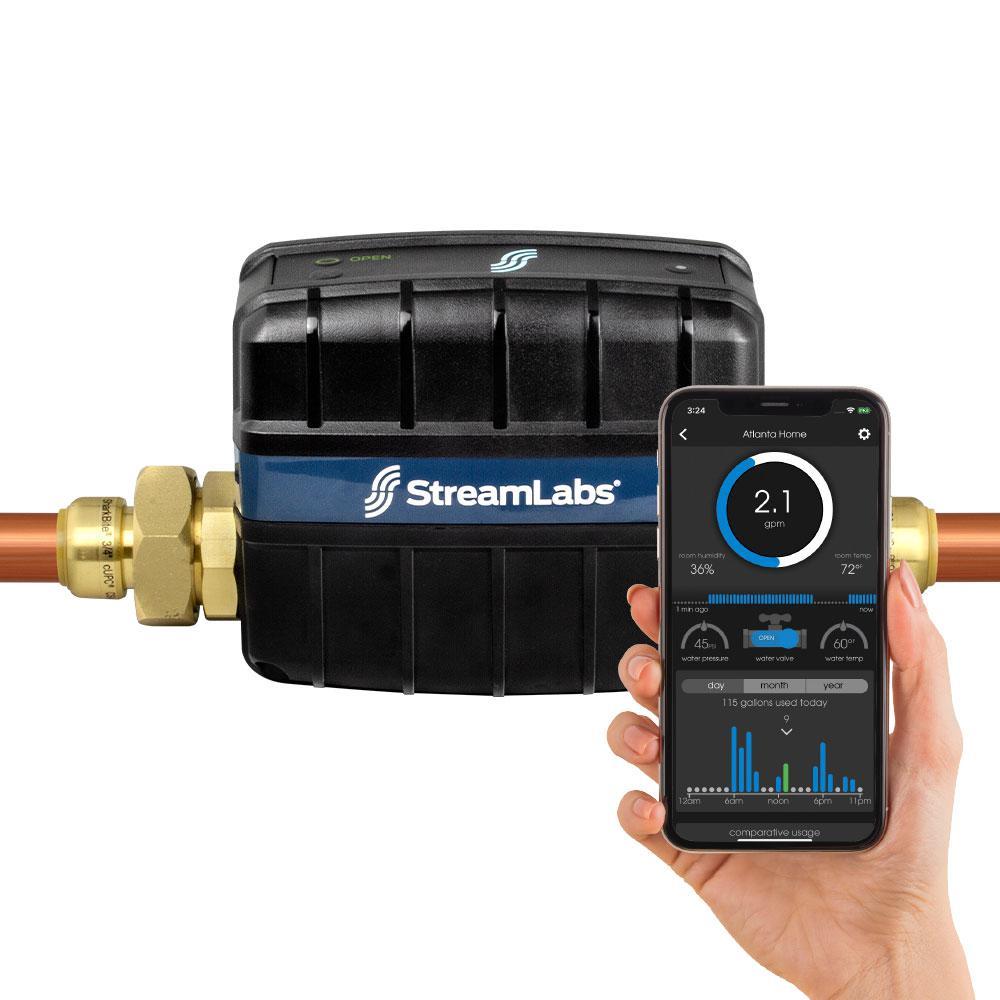 Smart Alerts
Smart Alerts is a StreamLabs feature that will send an alert directly to your Smartphone anytime a leak is detected and with the Remote Shut-off feature, you are able to turn the source of the leak off without being home, potentially saving you thousands of dollars in water damage repairs.
Say Goodbye to Frozen Pipes
With Freeze Alerts! This feature detects the room temperature and humidity and sends an immediate alert to your Smartphone indicating when your pipes are in danger of freezing.
Save Money
With StreamLabs' Comparative Usage Chart, you are made aware of your family's water usage patterns. This data will help you and your family to be conscious of where you can use less water and save more money.
---
Learning is Complete!
You will receive this notification after installation, once Streamlabs has learned your home's water habits in order to effectively detect unusual behavior and leaks.
What's Required?
All you need is a Wi-Fi connection to link this product with the Streamlabs App on your smartphone or tablet, allowing you to adjust your settings and select which alerts you would like to receive. Alternatively you can utilize Sreamlabs' weblink to connect the device with your personal computer. StreamLabs also has the capability to integrate with Amazon Alexa and Google Assistant, allowing you the convenience of voice commands.
Why Bolton?
Why choose Bolton to install and service your Streamlabs Smart Home products? For starters, we believe in our products. Before promoting this product to our customers, we installed a StreamLabs Smart Valve in our office. After a complete installation, set-up, and interaction with the application – we were impressed! Now that we have thoroughly vetted the Streamlabs Smart Valve with personal experience, we are ready to install this product in homes.
Warranty
Along with Bolton's material and workmanship warranty, StreamLabs provides a 2 year warranty from defects. On top of that, StreamLabs will pay up to $2,500 towards an insurance deductible if you suffer from a leak caused by a defect within 1 year of purchase. Click here for warranty details.
Request More Information