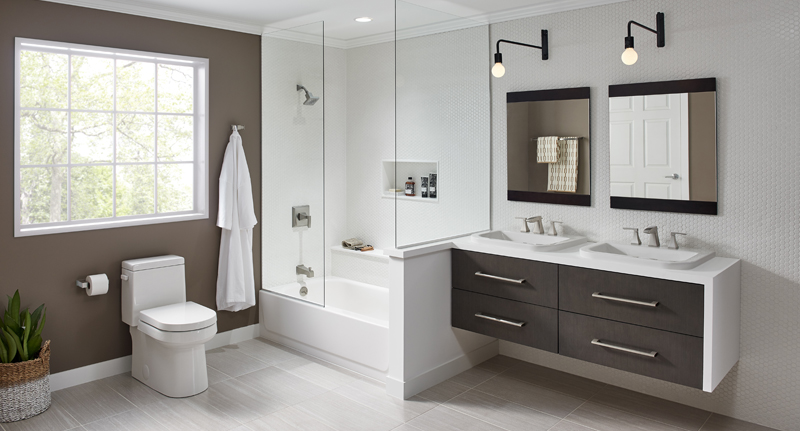 If you are preparing to place your home on the market in the next year or if you would like to maximize your home value before refinancing – these plumbing updates are just what you need! These 5 Simple Plumbing renovations can boost the value of your home and even save you money once installed!
1. Add a Water Filtration System
Today, more homeowners than ever use water filtration systems in their home to keep their water clean and healthy. If you find yourself purchasing bottled water or using complicated water filters in your refrigerator, consider installing a water filtration system for the house instead. This plumbing update saves you money and prevents you from needing to worry about purchasing new water filters regularly. Even better, this plumbing update is very appealing to homebuyers.
2. Minor Bathroom Updates
A major bathroom remodel can add value to your home, however a smaller bathroom remodel with simple plumbing updates can net you a better return on investment. This includes little things like new shower heads, faucets, lighting, or sinks. These will change up the feel of the room without a hefty price tag and boost the value of your home.
3. Fix Any Issues
An easy way to boost the value of the plumbing in your home is making sure that it is in good working order. Minor problems, like a running toilet or leaky faucet, can be costing you money every month and diminishing the value of your home.
4. Upgrade Your Kitchen Plumbing
Just like a minor bathroom update can boost your home's value, the same is true of your kitchen. Change out your sink or install a new faucet with better features. Not only can small plumbing updates change the feel of the room, but they also boost the value of your home.
5. It's the Little Things
Many plumbing updates can be described as little luxuries. If you have space in your garage, adding a utility sink is a nice upgrade and if you spend a great deal of time outside gardening, consider adding a small outdoor faucet for easier access. These little upgrades make a world of difference.
All of Your Plumbing Needs
Give Bolton Services a call at (828)253-3621 or contact us online to get more information on how our expert plumbers can help you with your dripping faucet (or just about anything else plumbing related!). We are fully licensed, bonded, and insured and our service is unparalleled. Give us a call today—you won't regret it!
Let's Talk Tanks
Dial 828-253-3621 and a friendly Bolton Service staff member will connect you with a tankless water heater expert.
Proactive Protection
Prevent problems before they happen! Our ESA Service Agreements offer convenience, savings, and peace of mind. Learn More