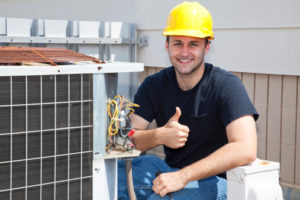 As a property owner or a facilities manager, you probably feel at the mercy of the different contractors you call in to maintain your building or make repairs. One of the most important parts of facility management is making sure your building maintains a comfortable temperature and good air quality.
Most building managers have many hats to wear when it comes to keeping their buildings and properties in tiptop shape. One hat they shouldn't wear is the HVAC repair and maintenance cap. Choosing an HVAC contractor for these tasks is a wise path to take because today's systems are increasingly sophisticated. It's best to call a professional who is certified and has extensive experience dealing with a variety of HVAC equipment and problems.
Often people are reluctant to initiate the process of choosing an HVAC contractor. Some managers hesitate about switching from a disappointing contractor because of the fear of the unknown. The truth is, you don't have to settle for a subpar contractor. Here are some things to look for when choosing an HVAC contractor.
Tips for choosing an HVAC contractor
LICENSING
Research licensing requirements before choosing an HVAC contractor. Does the contractor you are considering possess the proper licenses? Different states and local jurisdictions require different licensing. Ask for referrals and check references.
TRAINING
When choosing an HVAC contractor, make sure the company employs technicians who have earned the proper brand certifications. Manufacturers' equipment-warrantees are often contingent upon a certified technician performing work on the HVAC system. Don't be shy about asking to see proof of qualifications. A company that employs professionally certified staff members means they care about having well-trained, qualified personnel.
INDUSTRY AFFILIATIONS 
Check to see what professional organizations vendors belong to when choosing an HVAC contractor. Check to see if the technicians have certifications from either the North American Technician Excellence (NATE) or the Mechanical Services Contractors of America (MSCA). HVAC companies that have affiliations with these professional associations have access to industry tools and current best practices. They will hear about the latest and greatest in HVAC equipment, training and service; putting them ahead of the curve.
WRITTEN ESTIMATES 
Don't settle for over-the-phone estimates when choosing an HVAC contractor. A technician will not truly know the condition of your system without conducting a full and careful inspection. Get estimates in writing.
COMMUNICATION 
Make sure the technician provides you with a full and clear explanation of the repairs or services. Before the work gets underway.
INSURANCE 
Don't be afraid to ask to see proof of insurance when choosing an HVAC contractor. It is important that the vendor maintains adequate insurance including liability insurance. This will protect you against damage at your facility and worker's compensation that cover workers from on-the-job injuries.
EXPERTISE 
Make sure when choosing an HVAC contractor that company representatives are knowledgeable about cutting-edge equipment and do not steer you away from energy-saving upgrades that could reduce your operational costs.
If you have qualms about the services and the quality of work provided by your current contractors, invite Bolton Construction & Service of WNC, Inc. in to conduct a thorough inspection of your system. We have certified, professionally trained HVAC Technicians ready to help you out!