Customer satisfaction is our top priority at Bolton Service. That starts with clear communication and the expertise to ask the right questions before any job begins.
Our licensed and insured electrical technicians approach every job with the intent of forming relationships with our customers that last long after the initial service is performed. We are here to help, offering support, research, and answers to your questions beyond the confines of just one specific job.
---
Dependable Asheville Electricians
All of our electricians have either a Asheville City Card or a North Carolina License. Our service vans are fully stocked and we come to every home visit prepared to provide safe, effective solutions regardless of your electrical issue, whether that's a need for better outdoor lighting, wiring for a new electrical outlet, or a consultation on which smart-home technology to integrate into your home.
Though, we can't promise specific time slots for all of our service calls, we do guarantee that we will work after hours at our regular price if you've made an appointment for a specific day to ensure your job gets done.
---
Estimates and Warranties
We offer free in-home estimates based on set pricing or time-and-material costs related to the scope of work. All service tickets have a 30-day warranty on labor, while our contract jobs carry a one-year warranty on labor. Parts come with the manufacturer's warranty.
---
Frequently Asked Electrical Questions
I have lost power in part of my house. What should I check before calling an electrician?
The first thing to check is if you have any breakers tripped. If so, turn it off and then back on. Secondly, check to see if any GFCI receptacles that have tripped — these are the rectangular receptacles beside your sink in the bathroom and kitchen and are also located outside. If the GFCI is tripped, try resetting it and see if that fixes the problem. If the problem is affecting several circuits in the house, you may want to call your power company to have them check their service. If you have a smart meter, they can tell you over the phone if the problem is on their line or something within the house. If you have tried all of those things, then it is time to call an electrician.
How often should I replace my smoke detectors?
Smoke-detector manufacturers and fire-safety officials state that all smoke detectors should be replaced every 10 years. Just because you replace the 9-volt battery and press the test button annually does not mean that the detector is functioning properly. Some manufacturers even sell smoke detectors with a 10-year battery.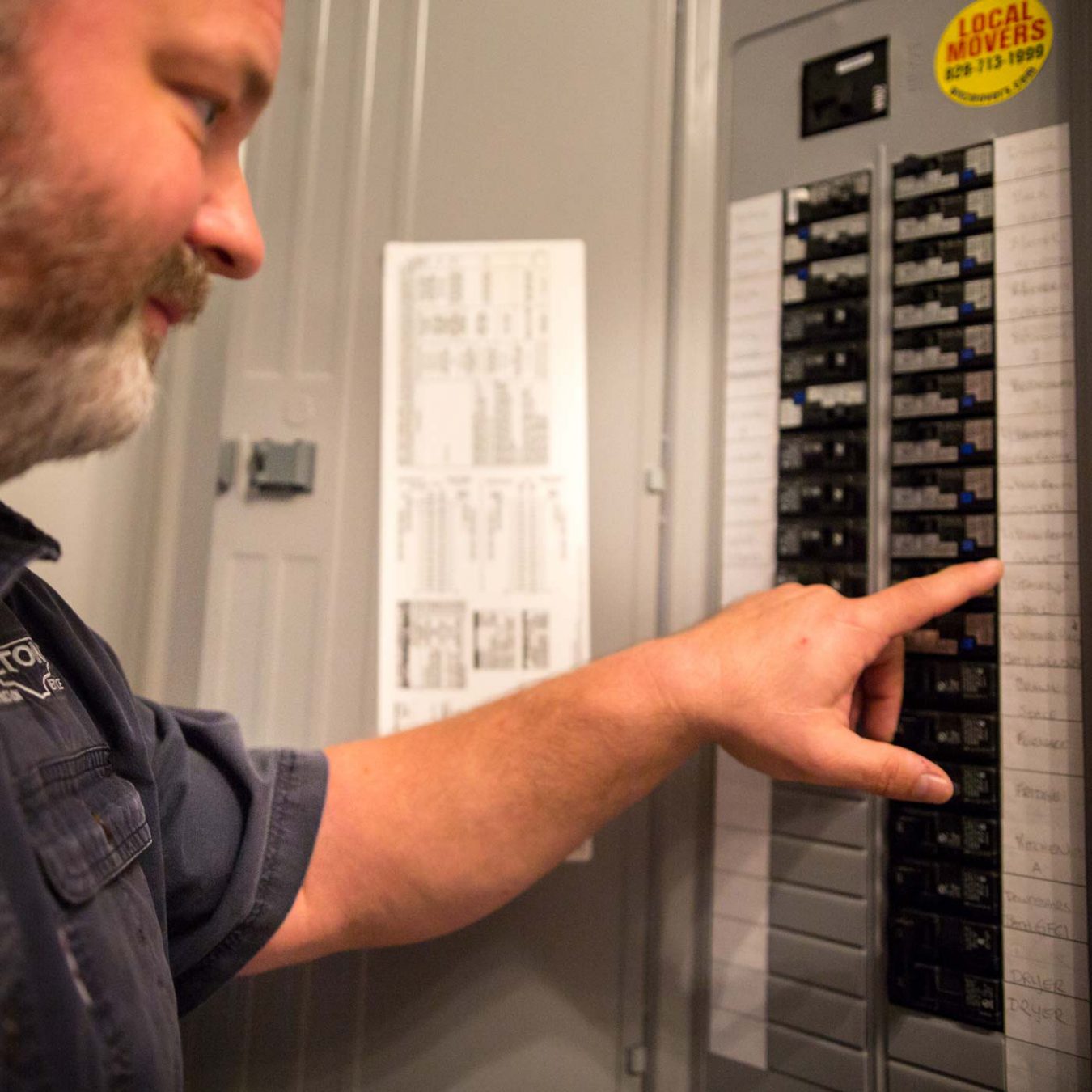 Our electrical products and services include:
Additional outlet installation
Generator installation and service
Panel replacement
Lighting fixture and ceiling fan installation and repair
Phone, cable and wiring upgrades
Home automation system
Indoor and outdoor lighting repair/replacement
Electrical wiring upgrades
Service upgrades and replacement
Ballast and lamp replacement
Surge protection
Emergency service
Let's Talk Electric
Dial 828-253-3621 and a friendly Bolton Service staff member will connect you with an electrical expert.
Proactive Protection
Prevent problems before they happen! Our ESA Service Agreements offer convenience, savings, and peace of mind. Learn More